Sau Hoai's hu tieu factory locates in the Ninh Kieu district of Can Tho, the largest city in the Mekong Delta of Vietnam, and only about 2 kilometers away from the famous Cai Rang floating market. After sightseeing and enjoying breakfast at the market, tourists can book a canoe or motorboat to visit Can Tho's traditional hu tieu making village.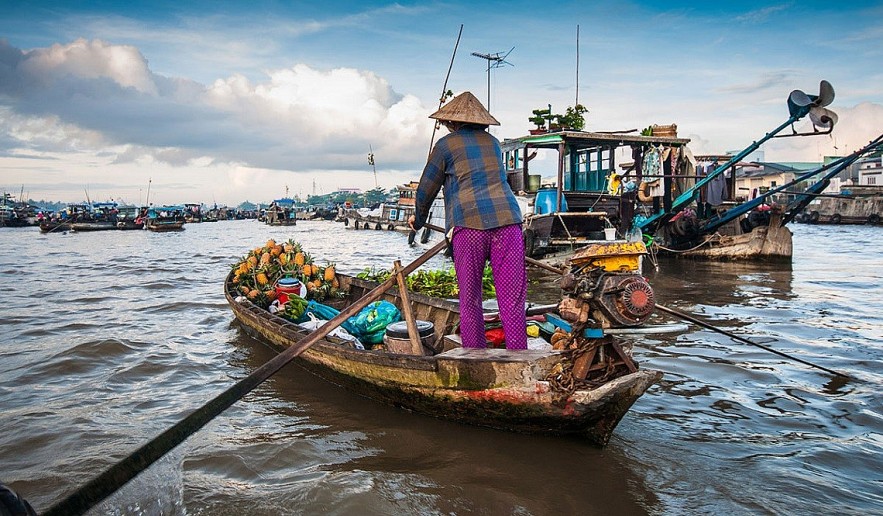 Sau Hoai hu tieu factory locates just 2 kilometers away from the famous Cai Rang floating market. Photo: VOVTV
Amongst many hu tieu facilities in Can Tho, Sau Hoai factory stands out as a favorite for tourists. In addition to producing traditional white hu tieu, Sau Hoai hu tieu factory also makes colorful hu tieu and hu tieu pizza, a creation of the owner – Sau Hoai.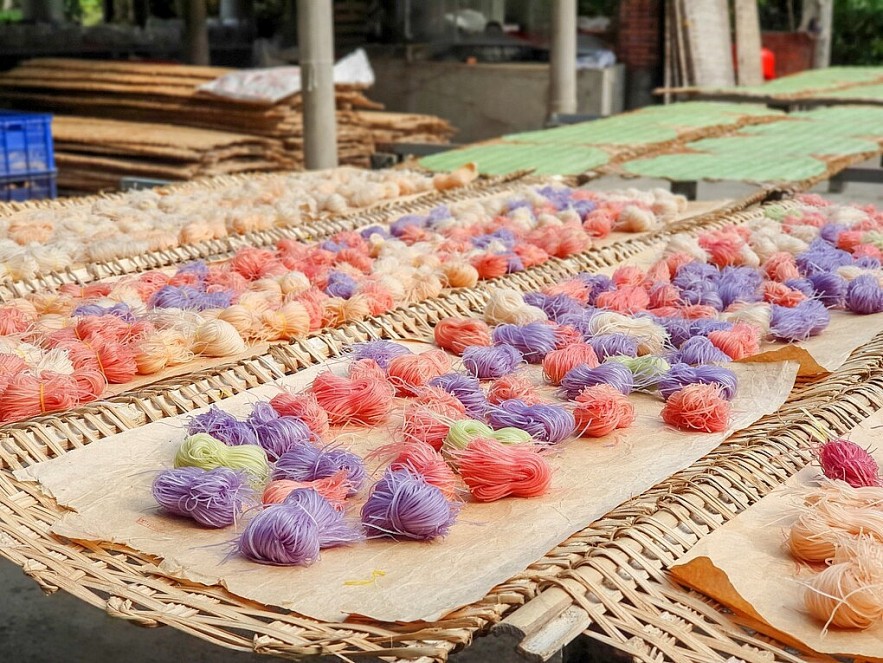 Colorful hu tieu noodles dried under the sun before being packaged. Photo: VnExpress
There are five steps in making hu tieu, namely grinding the powder, mixing the powder, steaming, drying, cutting and drying again. To create colorful Hu Tieu, Sau Hoai chose natural ingredients that can create food colors such as gac fruit, red dragonfruit, pandan leaves, magenta plants and beetroot. These ingredients are mixed with the powder, which is normally made from rice and/or tapioca, right at the beginning. After being steamed, large sheets of hu tieu are dried under the sun, waiting to be cut into thin noodles. In every stage, tourists can experience making hu tieu by themselves. Hu tieu noodles are also sold at the factory for just VND 50,000/package of five portions.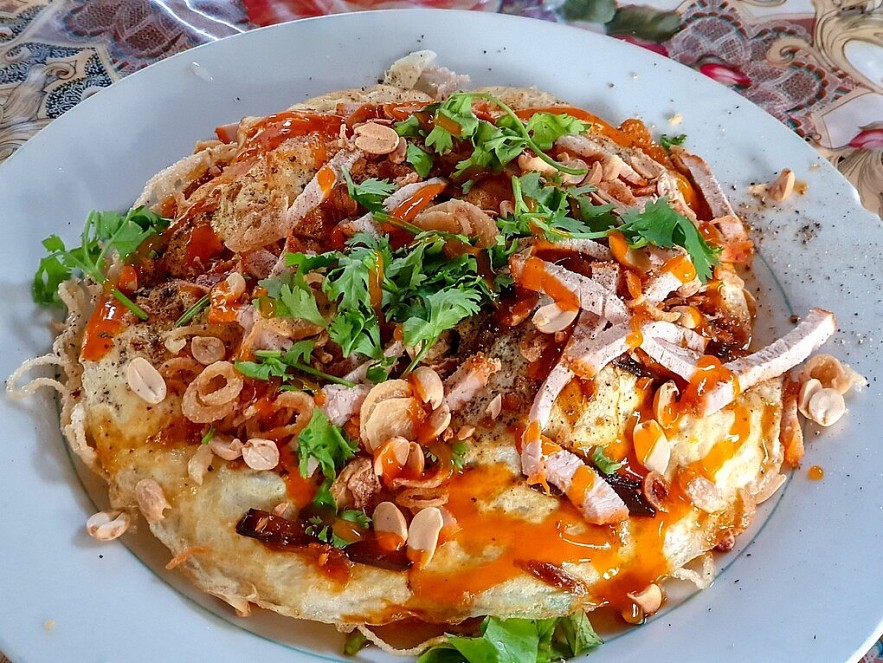 Completed hu tieu pizza, which can be found at Sau Hoai hu tieu factory. Photo: VnExpress
According to Sau Hoai, all products at the factory are made by hand, leading to low productivity. This is also why products from the 46-year-old factory are not sold widely or exported.
Not only making fresh hu tieu, but Sau Hoai also creates pizza using hu tieu. Instead of using conventional hu tieu made from rice and tapioca powder, Sau Hoai chooses hu tieu made completely from tapioca powder. The special hu tieu is deep-fried quickly in a boiling oil pan until golden brown. Why frying, the chef shapes the noodles to create a pizza-like cake.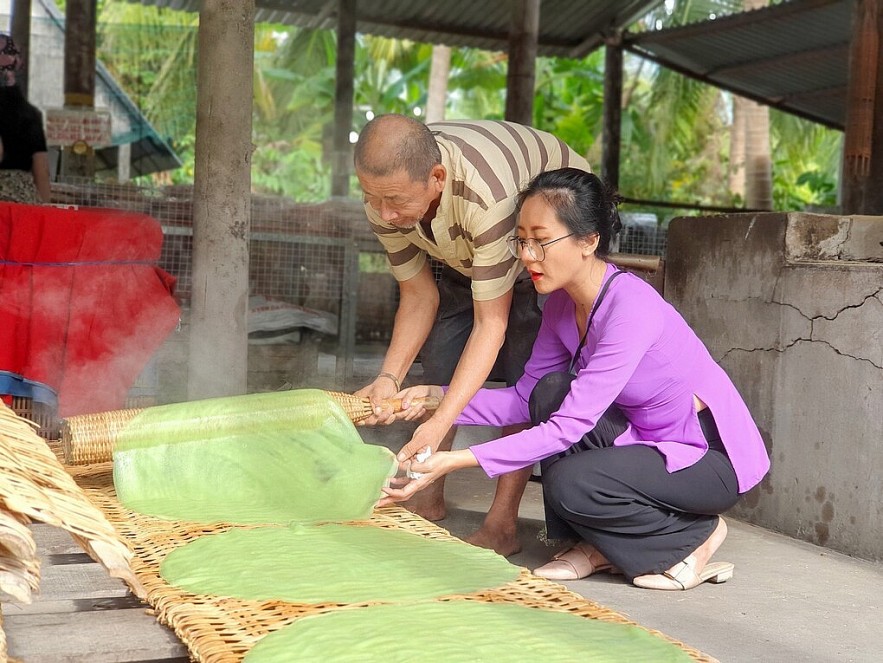 Coming to Sau Hoai hu tieu factory, tourists can try making hu tieu by themselves. Photo: VnExpress
Toppings are the highlight of the dish. Instead of using beef, tomato sauce or cheese, locals opt for fried eggs, well-braised pork (thit khia in Vietnamese) and coconut milk. The pork chosen must be lean meat cooked in coconut water and then sliced into small pieces. The coconut milk is mixed with fresh milk to a certain ratio to achieve a thick consistency with an attractive aroma.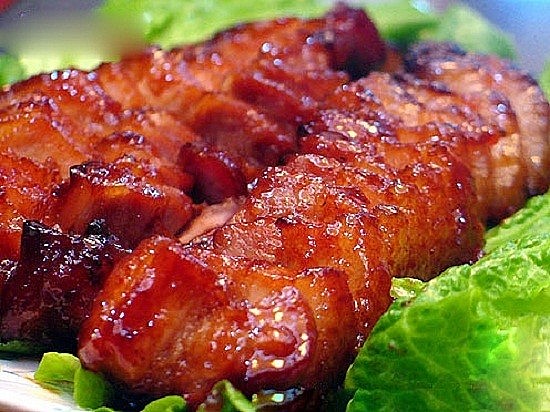 Well-braised pork (thit khia) is a major ingredient in Sau Hoai's hu tieu pizza. Photo: Jamja
As hu tieu pizza is eaten with a salad made with lettuce and beansprout, the dish does not clog the appetite even though it is fried, meaty, rich and flavorful.
Tourists can witness the entire process of making a hu tieu pizza and taste the dish on the spot or buy and bring home for VND 100,000/pizza. It is best, however, to try the dish on the spot because the longer it is left after cooking, the cooler and less crunchy it can get.
By: @Sophie Tran